The Greeks Us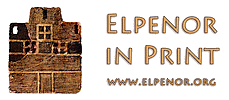 Page 6

( 18th - 19th c. A.D. )
---
I can't afford the luxury of doing anything weird, they say. I've got to be pragmatic and goal directed, preparing myself for a high-paying job. ... that is precisely how most students feel. Consequently, at graduation they will find themselves part of a huge herd, scarcely distinguishable except by a few tenths of a point on their GPAs. ...
We are not facing difficult times in this country because our current leaders paid too much attention to clear and accurate thought about complex issues. Our problems arise instead from the recent tendency to ignore questions of historical depth and intellectual complexity in favor of short-term simplistic pragmatism. ...
(Students of Greek) come to know themselves not just as kids from Welleston or Pittsburgh who hope to find a job someday, but as people who have engaged Herodotus, Plato and St John in conversation.
Steve Hays, Ohio University
---
Cf. Aspects of Byzantium in Modern Popular Music
Constantinople Home Page : Constantinople and the West ||| Greek History
Myths and Legends of Ancient Greece and Rome

Reference address : https://www.ellopos.net/elpenor/greeks-us/default.asp?pg=6