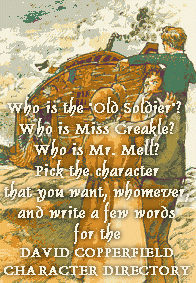 David Copperfield Characters
Who's who in David Copperfield?
Cf. character names in David Copperfield
Dora - David's first wife
More: is a very genuine and amusing figure; she has certainly far more force of character than Agnes. She represents the infinite and divine irrationality of the human heart. What possessed Dickens to make her such a dehumanised prig as to recommend her husband to marry another woman? One could easily respect a husband who after time and development made such a marriage, but surely not a wife who desired it. If Dora had died hating Agnes we should know that everything was right, and that God would reconcile the irreconcilable. When Dora dies recommending Agnes we know that everything is wrong, at least if hypocrisy and artificiality and moral vulgarity are wrong. There, again, Dickens yields to a mere desire to give comfort. He wishes to pile up pillows round Dora; and he smothers her with them, like Othello. [by Chesterton - Cf. Agnes-David-Dora Love Triangle.]

Richard Babley - Mr. Dick's true name

Aunt Betsey says to Davy: 'But don't you call him by it, whatever you do. He can't bear his name. That's a peculiarity of his. Though I don't know that it's much of a peculiarity, either; for he has been ill-used enough, by some that bear it, to have a mortal antipathy for it, Heaven knows. Mr. Dick is his name here, and everywhere else, now - if he ever went anywhere else, which he don't. So take care, child, you don't call him anything BUT Mr. Dick.' [Cf. Mr. Dick]

Betsey Trotwood - David's aunt

Betsey Trotwood's last name, suggests a hurried woman (trot), for she is fond of order and does everything with no time to spare. Remember her expression "Oh tut, tut, tut" [by leo] Remember also Betsey's suggestion: "never be mean in anything, never be false, never be cruel" from Copperfield's Chapter 13 [by J. Bristol - Cf. is Mrs. Trotwood a feminist? Betsey Trotwood was voted David Copperfield's hero after Agnes by visitors of this site. See the poll]

Martha Endell - Friend of Little Emily's

two or three years older. After her "fall," Martha pleads for Emily's help and leaves for the London slums, where she eventually becomes the liason for Uncle Dan between his niece. To reward her for his kindness, Uncle Dan takes Martha to Australia with them and she marries someone there. [by Monica Stahl. See David Copperfield ch. 22 & 40. Cf. Social Commentary in David Copperfield]
See also: Mr. Micawber, Who is the hero of David's life?, Uriah Heep, Uriah Heep's red hair - significant?, Women, Mr. Dick, Mrs Copperfield vs Dora, Dr. Strong, Steerforth's name?, Rosa (Dartle) Mystery, Mr. Spenlow, Is Mrs. Trotwood a feminist?
ADD YOUR DESCRIPTION OF A CHARACTER
Copperfield Community ||| David Copperfield Home Page