The Greeks Us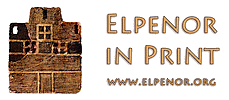 Page 8

( 19th - 20th c. A.D. )
---
He mounted to the parapet again and gazed out over Dublin bay, his fair oakpale hair stirring slightly.
- God! he said quietly. Isn't the sea what Algy calls it: a great sweet mother? The snotgreen sea. The scrotumtightening sea. Epi oinopa ponton [To the sea that looks like wine]. Ah, Daedalus, the Greeks! I must teach you. You must read them in the original. Thalatta! Thalatta! [The Sea! The Sea!] She is our great sweet mother. Come and look.(...)
God, Kinch, if you and I could only work together we might do something for the island. Hellenise it.
James Joyce, Ulysses
---
Cf. Aspects of Byzantium in Modern Popular Music
Constantinople Home Page : Constantinople and the West ||| Greek History
Myths and Legends of Ancient Greece and Rome

Reference address : https://www.ellopos.net/elpenor/greeks-us/default.asp?pg=8