Translated by Stephen MacKenna and B. S. Page.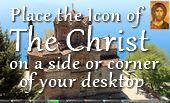 II: 42 pages - You are on Page 34


Thus the traces of the Good discerned upon it must be taken as indication of the nature of that Archetype: we form a conception of its Authentic Being from its image playing upon the Intellectual-Principle. This image of itself, it has communicated to the Intellect that contemplates it: thus all the striving is on the side of the Intellect, which is the eternal striver and eternally the attainer. The Being beyond neither strives, since it feels no lack, nor attains, since it has no striving. And this marks it off from the Intellectual-Principle, to which characteristically belongs the striving, the concentrated strain towards its Form.

Yet: The Intellectual-Principle; beautiful; the most beautiful of all; lying lapped in pure light and in clear radiance; circumscribing the Nature of the Authentic Existents; the original of which this beautiful world is a shadow and an image; tranquil in the fullness of glory since in it there is nothing devoid of intellect, nothing dark or out of rule; a living thing in a life of blessedness: this, too, must overwhelm with awe any that has seen it, and penetrated it, to become a unit of its Being.

But: As one that looks up to the heavens and sees the splendour of the stars thinks of the Maker and searches, so whoever has contemplated the Intellectual Universe and known it and wondered for it must search after its Maker too. What Being has raised so noble a fabric? And where? And how? Who has begotten such a child, this Intellectual-Principle, this lovely abundance so abundantly endowed?

The Source of all this cannot be an Intellect; nor can it be an abundant power: it must have been before Intellect and abundance were; these are later and things of lack; abundance had to be made abundant and Intellection needed to know.

These are very near to the un-needing, to that which has no need of Knowing, they have abundance and intellection authentically, as being the first to possess. But, there is that before them which neither needs nor possesses anything, since, needing or possessing anything else, it would not be what it is — the Good.



Reference address : https://www.ellopos.net/elpenor/greek-texts/ancient-greece/plotinus/enneads-3b.asp?pg=34