Translated by Stephen MacKenna and B. S. Page.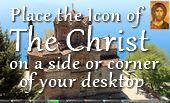 106 pages - You are on Page 82


Now, if all aspiration and Act whatsoever are directed towards the Good, it follows that the Essential-Good neither need nor can look outside itself or aspire to anything other than itself: it can but remain unmoved, as being, in the constitution of things, the wellspring and first-cause of all Act: whatsoever in other entities is of the nature of Good cannot be due to any Act of the Essential-Good upon them; it is for them on the contrary to act towards their source and cause. The Good must, then, be the Good not by any Act, not even by virtue of its Intellection, but by its very rest within Itself.

Existing beyond and above Being, it must be beyond and above the Intellectual-Principle and all Intellection.

For, again, that only can be named the Good to which all is bound and itself to none: for only thus is it veritably the object of all aspiration. It must be unmoved, while all circles around it, as a circumference around a centre from which all the radii proceed. Another example would be the sun, central to the light which streams from it and is yet linked to it, or at least is always about it, irremoveably; try all you will to separate the light from the sun, or the sun from its light, for ever the light is in the sun.



Reference address : https://www.ellopos.net/elpenor/greek-texts/ancient-greece/plotinus/enneads-1.asp?pg=82