Start ||| The Philosophical Europe ||| The Political Progress ||| European Witness
European Forum ||| Special Homages: Meister Eckhart / David Copperfield

From Metamorphoses, Book II, contributed to the European Prospect pages by Laellius.
* Post a question / start a discussion on this text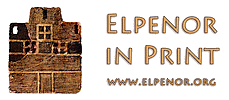 ... The frighted nymph looks backward on the shoar,
And hears the tumbling billows round her roar;
But still she holds him fast: one hand is born
Upon his back; the other grasps a horn:
Her train of ruffling garments flies behind,
Swells in the air, and hovers in the wind. ...
Cf. Horace, Wife of the Invincible , Virgil, Europe & Beyond,
Hippocrates, Europeans Have Courage (margin: Aristotle, Europeans, Asians, and Greeks)