From: The History of Rome, by Theodor Mommsen
Translated with the sanction of the author by William Purdie Dickson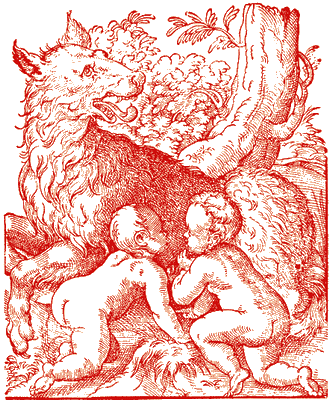 Page 25


Religion

It is the same in religion. In Italy, as in Greece, there lies at the foundation of the popular faith the same common treasure of symbolic and allegorical views of nature: on this rests that general analogy between the Roman and the Greek world of gods and of spirits, which was to become of so much importance in later stages of development. In many of their particular conceptions also,--in the already mentioned forms of Zeus-Diovis and Hestia-Vesta, in the idea of the holy space (--temenos--, -templum-), in various offerings and ceremonies--the two modes of worship do not by mere accident coincide. Yet in Greece, as in Italy, they assumed a shape so thoroughly national and peculiar, that but little even of the ancient common inheritance was preserved in a recognizable form, and that little was for the most part misunderstood or not understood at all. It could not be otherwise; for, just as in the peoples themselves the great contrasts, which during the Graeco-Italian period had lain side by side undeveloped, were after their division distinctly evolved, so in their religion also a separation took place between the idea and the image, which had hitherto been but one whole in the soul.

Those old tillers of the ground, when the clouds were driving along the sky, probably expressed to themselves the phenomenon by saying that the hound of the gods was driving together the startled cows of the herd. The Greek forgot that the cows were really the clouds, and converted the son of the hound of the gods--a form devised merely for the particular purposes of that conception--into the adroit messenger of the gods ready for every service. When the thunder rolled among the mountains, he saw Zeus brandishing his bolts on Olympus; when the blue sky again smiled upon him, he gazed into the bright eye of Athenaea, the daughter of Zeus; and so powerful over him was the influence of the forms which he had thus created, that he soon saw nothing in them but human beings invested and illumined with the splendour of nature's power, and freely formed and transformed them according to the laws of beauty. It was in another fashion, but not less strongly, that the deeply implanted religious feeling of the Italian race manifested itself; it held firmly by the idea and did not suffer the form to obscure it.


Do you see any typos or other mistakes? Please let us know and correct them
Reference address : http://www.ellopos.net/elpenor/rome/1-02-earliest-migrations-italy.asp?pg=25