'In agro dominico' - March 27, 1329
The papal bull condemning Meister Eckhart

Article 1b : The Image of God




Page 2




St. Gregory of Nyssa speaks about the uncreated Image in the soul when he recognises "inside man the beauty of the spiritual nature of God himself, united with some power that is beyond our understanding".

This is why he says also that man "had the leadership of the creatures already before he was created and came to existence".

.

St. Maximus Confessor writes that "the mind has power and authority to follow or resist anything he wants whatever".

St. Basil the Great speaks about "the hidden in us spark of the divine desire, ... the loving power, which has been granted to us with the first spring of Creation".
Jump to Articles 14-15 * Full text of the papal bull * Article 2b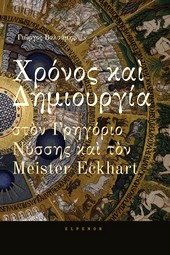 Time and Creation
In Gregory of Nyssa and
Meister Eckhart
Elpenor Editions in Print