17 pages (so far) of quotations, selected and translated from the original by ELLOPOS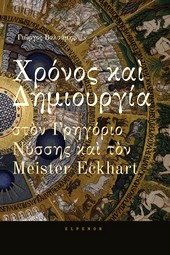 Time and Creation
In Gregory of Nyssa and
Meister Eckhart



Quotes is not an 'easy reading', especially when they are about faith.

The main purpose of a person who talks about such matters in order to help others, is not to convince nor to transmit a great system of knowledge, but to offer some hints on a way each of us personally discovers anew. This is why I consider most important the quotes-problem of Meister Eckhart.

90% (in the best case) of the quotes attributed to Eckhart by various web sites, are either false, or loose paraphrases. Sometimes Eckhart is even presented like a kind of a new-age or 'inter-religious' freak. Itís a shame, because what he really said can be a valuable spiritual companion. Eckhart is a friend of God and one of the greatest saints and theologians of Christianity. If Catholicism remained Orthodox, Eckhart would have become also a great Father of all Christianity and not a more or less marginal personality. Despite all the differences separating East and West, already having evolved by his time, Eckhart remains the closest possible example by which we can get an idea of the form Orthodox thinking would have in the Latin West.

This section of the Meister Eckhart Site, features characteristic and most important sayings of his, translated from the German and the Latin original (Kohlhammerís critical edition). You can be sure that what you will be reading is Eckhart's. Devote some time to each and every phrase. You can bookmark a page and continue another day, but please do not browse these in a hurry.



More are being translated and will be published on the Quotes section
Other works by Meister Eckhart ||| Eckhart Home