ERNST TROELTSCH
From: Ernst Troeltsch, The social teaching of the Christian Churches, v. II,
tr. Olive Wyon, 1931, pp. 730 - 741. Here published without footnotes.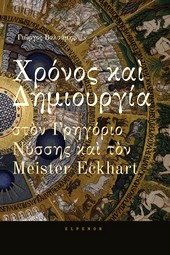 Time and Creation
In Gregory of Nyssa and
Meister Eckhart

MYSTICISM : A DIRECT RELIGIOUS EXPERIENCE

MYSTICISM IN THE NEW TESTAMENT

MYSTICISM AND THE PHILOSOPHY OF RELIGION

IN THE WIDEST sense of the word, mysticism is simply the insistence upon a direct inward and present religious experience. It takes for granted the objective forms of religious life in worship, ritual, myth, and dogma; and it is either a reaction against these objective practices, which it tries to draw back into the living process, or it is the supplementing of traditional forms of worship by means of a personal and living stimulus. Mysticism is thus always something secondary, something which has been deliberately thought out, although this emotional condition which has been deliberately produced is characteristically connected with an immediacy of feeling which is the entire opposite of the former process. Thus it always contains a paradoxical element, a certain hostility to popular religion and its average forms of expression, an artificiality which, however, is again extinguished by its own thirst for direct communion with God. Hence the primitive religious fact itself in which experience and the expression of the experience are simply identical, is never mystical. The vitality of the religious sense, however, when it is faced with objectified religion, easily and often develops mystical characteristics. It expresses itself in ecstasy and frenzy, in visions and hallucinations, in subjective religious experience and "inwardness", in concentration upon the purely interior and emotional side of religious experience. Certainly these visions are rarely creative in the sense of imparting fresh knowledge; they are almost always expansions and interpretations of the common faith, as was the case with the spiritual gifts of the early Christians, and with the innumerable visions and prophecies of mediaeval recluses and saints, an experience which has been repeated all through the centuries, down to the present day.
More studies on Meister Eckhart ||| Eckhart Home