VLADIMIR LOSSKY
From: Vladimir Lossky, Théologie négative et connaissance de Dieu chez Maître Eckhart, Paris 1998 (3), pp. 175-182.
© Librairie Philosophique J. Vrin. Here published without the footnotes.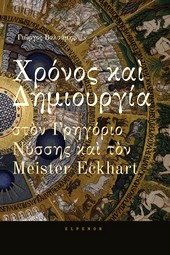 Time and Creation
In Gregory of Nyssa and
Meister Eckhart
Lorsque saint Augustin, après avoir lu quelques extraits des Ennéades, médita sur la Divinité "rendue visible à l'intelligence par la création" (Rom. 1, 20), l'Être qui est vraiment lui apparut comme l'Identité immuable. Et inspexi cetera infra te et vidi nec omnino esse nec omnino non esse: quidem, quoniam abs te sunt, non esse autem, quoniam id quod es non sunt. Le rayonnement de la Vérité qui fit entendre de loin sa voix : immo vero Ego sum qui sum, - éclipsa la vue infirme d'Augustin et, conscient de sa condition de créature, il tressaillit plein d'amour et de terreur. "Et je me suis trouvé être loin de Toi, dans la région de la dissemblance..."

Cette expression, tirée de ses lectures plotiniennes, est venue tout naturellement sous la plume du théologien chrétien qui savait que l'homme a été créé à l'image et à la ressemblance de Dieu. Cependant la regio dissimilitudinis augustinienne, dans le contexte des Confessions, ne répond pas uniquement à l'état de la nature humaine privée de "ressemblance" après le péché d'Adam ; il semble que la dissemblance doit signaler ici, avant tout, l'inadéquation ontologique des créatures à Dieu. L'éloignement de l'Être vrai voudrait donc caractériser pour Augustin la condition des êtres qui ne sont pas vraiment ; la "vertibilité" vers le néant, l'instabilité propre à tout ce qui n'est pas univoquement "être", relègue les créatures dans le domaine qui correspond au "devenir" platonicien. Affectés d'une dissemblance congénitale, non-identiques à Dieu par définition, les êtres créés "sont et ne sont pas" ou, comme le dira à son tour Maître Eckhart, en exprimant la même idée en termes d'unité, ils sont "un et non-un".
More studies on Meister Eckhart ||| Eckhart Home