Translated from the Greek original by Frederick Crombie.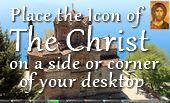 This Part: 128 Pages




Page 119


Chapter LXX.

His next remark was, "Have not these inferior powers had assigned to them by God different departments, according as each was deemed worthy?" But this is a question which requires a very profound knowledge. For we must determine whether the Word of God, who governs all things, has appointed wicked demons for certain employments, in the same way as in states executioners are appointed, and other officers with cruel but needful duties to discharge; or whether as among robbers, who infest desert places, it is customary for them to choose out of their number one who may be their leader,--so the demons, who are scattered as it were in troops in different parts of the earth, have chosen for themselves a chief under whose command they may plunder and pillage the souls of men. To explain this fully, and to justify the conduct of the Christians in refusing homage to any object except the Most High God, and the First-born of all creation, who is His Word and God, we must quote this from Scripture, "All that ever came before Me are thieves and robbers: but the sheep did not hear them;" and again, "The thief cometh not, but for to steal, and to kill, and to destroy;" [4838] and other similar passages, as, "Behold, I have given you authority to tread on serpents and scorpions, and over all the power of the enemy: and nothing shall by any means hurt you;" [4839] and again, "Thou shalt tread upon the lion and adder: the young lion and the dragon shalt thou trample under feet." [4840] But of these things Celsus knew nothing, or he would not have made use of language like this: "Is not everything which happens in the universe, whether it be the work of God, of angels, of other demons, or of heroes, regulated by the law of the Most High God? Have these not had assigned to them various departments of which they were severally deemed worthy? Is it not just, therefore, that he who serves God should serve those also to whom God has assigned such power?" To which he adds, "It is impossible, they say, for a man to serve many masters." This last point we must postpone to the next book; for this, which is the seventh book which we have written in answer to the treatise of Celsus, is already of sufficient length.

[4838] John x. 8-10.

[4839] Luke x. 19.

[4840] Ps. xci. 13.



Reference address : https://www.ellopos.net/elpenor/greek-texts/fathers/origen/contra-celsum-4.asp?pg=119