Some Important Greek Words

Selected, translated and transliterated by Elpenor


In Print:


LPENOR's visitors offen need to know the Greek word for an English one, as beauty, freedom, etc., which is the reason of this page. A word in English (left column) is translated in Ancient and Modern Greek at the right columns. Words can have many meanings or/and nuances. If you need such information, you can use the interpretation community, because this page offers only the most common meanings. You may also ask for a Greek word or phrase that is not included in this list. If you don't have already you can download Greek polytonic fonts (if you see garbage instead of the accented characters). Note also that the list is not sorted; you have to use your browser's search tool if you need to find a specific word.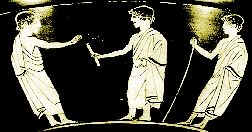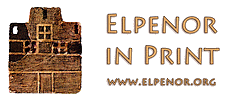 English

Ancient Greek

Modern Greek

Transliteration

Christ
(Anointed)

Χριστός

Χριστός

Christos

God

Θεός

Θεός

Theos

Love

Ἀγάπη

Ἀγάπη

Aghape

Gospel, Good News

Εὐαγγέλιον

Εὐαγγέλιο

Evangelion
Demiourgia

Friend

Φίλος

Φίλος

Philos

Friendship

Φιλία

Φιλία

Philia
Eleutheria

Saint

Ἅγιος

Ἅγιος

Haghios

Soul

Ψυχή

Ψυχή

Psyche

Body

Σῶμα

Σῶμα

Soma

Blood

Αἷμα

Αἷμα

Aema

Life

Ζωή

Ζωή

Zoe

Man (regardless of sex)

Ἄνθρωπος

Ἄνθρωπος

Anthropos

Peace

Εἰρήνη

Εἰρήνη

Eirene

Quietude

Ἡσυχία

Ἡσυχία

Hesychia

Vision (higher perception)

Θεωρία

Θεωρία

Theoria

Wisdom

Σοφία

Σοφία

Sophia

Truth

Ἀ

λήθεια

Ἀ

λήθεια

Aletheia

Adventure
(Sudden change of events in Greek Tragedy)

Περιπέτεια

Περιπέτεια

Peripeteia

Φιλότιμον

Φιλότιμο

Philotimon

Beauty

Ὀμορφιά

Ὀμορφιά

Omorhpia

Idea

Ἰδέα

Ἰδέα

Idea
Arete

Happiness

Εὐτυχία

Εὐτυχία

Ephtychia
Synesis

Knowing God

Θεογνωσία

Θεογνωσία

Theognosia
Ecclesia

Seeing God

Θεοπτία

Θεοπτία

Theoptia

Harmony

Ἁρμονία

Ἁρμονία

Harmonia
Homophrosyne

Light

Φῶς

Φῶς

Phos

Joy

Χαρά

Χαρά

Chara

Resurrection

Ἀνάστασις

Ἀνάσταση

Anastasis

Nature / Rooting and Growth

Φύσις

Φύση

Physis

Heart

Καρδία

Καρδιά

Kardia

Face

Πρόσωπον

Πρόσωπο

Prosopon
Politeia

Society

(united in communication of the highest friendship and values)

Koinonia

Essence

Οὐσία

Οὐσία

Ousia

Service

Ὑπηρεσία

Ὑπηρεσία

Hypiresia

Help

Βοήθεια

Βοήθεια

Voetheia

World

Κόσμος

Κόσμος

Kosmos

Age

Αἰών

Αἰών

α

ς

Aeon

Death

Θάνατος

Θάνατος

Thanatos

Spirit

Πνεῦμα

Πνεῦμα

Pneuma

Love of/for Wisdom

Φιλοσοφία

Φιλοσοφία

Philosophia

Faith

Πίστις

Πίστη

Pistis

Higher Intellect

Νοῦς

Νοῦς

Nous

Imagination

Φ

αντασία

Φ

αντασία

Phantasia

Reasoning

Ὑπολογισμός

Ὑπολογισμός

Hypologhismos

Language

Γλῶσσα

Γλῶσσα

Ghlossa

Speech

Ὁμιλία

Ὁμιλία

Homilia

Writing

Γραφή

Γραφή

Ghraphe

Poetry

Ποίησις

Ποίηση

Poiese

History

Ἱστορία

Ἱστορία

Historia

Book

Βιβλίον

Βιβλίο

Vivlion

Science

Ἐπιστήμη

Ἐπιστήμη

Episteme

Research

Ἔρευνα

Ἔρευνα

Ereuna

School

Σ

χολεῖον

Σχολεῖο

Scholeion

Success

Ἐπιτυχία

Ἐπιτυχία

Epitychia

War

Πόλεμος

Πόλεμος

Polemos

The Lord's Prayer (Pater Emon), narrated by Elli Lampeti
Christ is Risen (Χριστὸς Ἀνέστη) as chanted in the Orthodox Church | Select a Greek letter, word or phrase to listen to

Reference address : http://www.ellopos.net/elpenor/lessons/somewords.asp