The Ecumenical Patriarchate after the Capture of Constantinople
Documents & Studies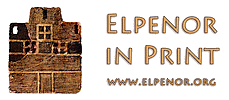 The collection

contains a table with references (title, author, date and place of publication) to the documents concerning the Ecumenical Patriarchate.

The documents can be found at least at main Greek libraries.
You will need Windows Greek fonts.
Special thanks to Mr. Kostas Katsiyiannis for his research at the archives of the Greek parliament.
• Open the Collection
• Related pages