Translated by Allan Menzies.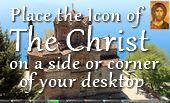 128 Pages




Page 127


For if there was a difference among the prophets, those who were perfect and more distinguished of them did not desire to see what the Apostles saw, but actually beheld them, while those who rose less fully than these to the height of the Word were filled with longing for the things which the Apostles knew through Christ. The word "saw" we have not taken in a physical sense, and the word "heard" we have taken to refer to a spiritual communication; only he who has ears is prepared to hear the words of Jesus--a thing which does not happen too frequently. There is the further point, that the saints before the bodily advent of Jesus had an advantage over most believers in their insight into the mysteries of divinity, since the Word of God was their teacher before He became flesh, for He was always working , in imitation of His Father, of whom He says, "My father worketh hitherto." On this point we may adduce the words He addresses to the Sadducees, who do not believe the doctrine of the resurrection. "Have you not read," He says, [4814] "what is said by God at the Bush, I am the God of Abraham, and the God of Isaac, and the God of Jacob; He is not the God of the dead but of the living." If, then, God is not ashamed to be called the God of these men, and if they are counted by Christ among the living, and if all believers are sons of Abraham, [4815] since all the Gentiles are blessed with faithful Abraham, who is appointed by God to be a father of the Gentiles, can we hesitate to admit that those living persons made acquaintance with the learning of living men, and were taught by Christ who was born before the daystar, [4816] before He became flesh? And for this cause they lived, because they had part in Him who said, "I am the life," and as the heirs of so great promises received the vision, not only of angels, but of God in Christ. For they saw, it may be, the image of the invisible God, [4817] since he who hath seen the Son hath seen the Father, and so they are recorded to have known God, and to have heard God's words worthily, and, therefore, to have seen God and heard Him.

[4814] Mark xii. 20.

[4815] Rom. iv. 11.

[4816] Ps. cv. 3.

[4817] Coloss. i. 15; John xiv. 19.



Reference address : https://www.ellopos.net/elpenor/greek-texts/fathers/origen/john-commentary.asp?pg=127