Translated by Alexander Roberts and James Donaldson.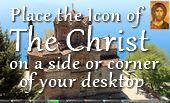 This Part: 134 Pages




Page 50


"At first he was a lion with ample beard." [1576]

While he yet retained the ornament, the hair of the chin showed him to be a man.

"But after that a serpent, a pard, or a big sow."

Love of ornament has degenerated to wantonness. A man no longer appears like a strong wild beast,

"But he became moist water, and a tree of lofty branches."

Passions break out, pleasures overflow; beauty fades, and falls quicker than the leaf on the ground, when the amorous storms of lust blow on it before the coming of autumn, and is withered by destruction. For lust becomes and fabricates all things, and wishes to cheat, so as to conceal the man. But that man with whom the Word dwells does not alter himself, does not get himself up: he has the form which is of the Word; he is made like to God; he is beautiful; he does not ornament himself: his is beauty, the true beauty, for it is God; and that man becomes God, since God so wills. Heraclitus, then, rightly said, "Men are gods, and gods are men." For the Word Himself is the manifest mystery: God in man, and man God. And the Mediator executes the Father's will; for the Mediator is the Word, who is common to both--the Son of God, the Saviour of men; His Servant, our Teacher. And the flesh being a slave, as Paul testifies, how can one with any reason adorn the handmaid like a pimp? For that which is of flesh has the form of a servant. Paul says, speaking of the Lord, "Because He emptied Himself, taking the form of a servant," [1577] calling the outward man servant, previous to the Lord becoming a servant and wearing flesh. But the compassionate God Himself set the flesh free, and releasing it from destruction, and from bitter and deadly bondage, endowed it with incorruptibility, arraying the flesh in this, the holy embellishment of eternity--immortality.

[1576] Odyss., iv. 456-458.

[1577] Phil. ii. 7.



Reference address : https://www.ellopos.net/elpenor/greek-texts/fathers/clement-alexandria/paedagogus.asp?pg=50