Blaine L. Reininger
Rosebud
Instrumental, from Reininger's "Byzantium".
Here is an excerpt from the text on the cover of the disk:


"At no other time before or since did the planet earth approach a reconciliation of its eastern and western ways. In Byzantium the meathead passion to force time and space to march in a straight line at swordpoint, which has characterised western thought since Romulus met Remus, was tempered by eastern subtlety and delicious vice. The resulting civilization produced a culture and art that was only made more beautiful by the hidden knowledge that the end was near. Even lower life forms like politicians and bank managers regard the Byzantine epoch as a golden age. Let us fade out on an idyllic vision of gilded towers gleaming in a heartbreakingly rich sunset, ghost citizens casting long purple shadows as they hurry home, bronze horns and water organs, cymbals and bells. Ignore the jackals who always wait in the wings to bring on the darkness and put the world in chains. We shall dream while we still can."
---
* = instrumental


An Anthology by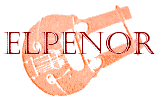 Cf. A History of the Byzantine Empire ||| Videos about Byzantium and Orthodoxy ||| Orthodox Images of the Christ ||| Greek Orthodoxy - From Apostolic Times to the Present Day ||| Byzantium : The Alternative History of Europe ||| Yeats' Byzantium ||| 3 Posts on the Fall of Byzantium ||| The History of Old Rome


Greek Forum : Make a question / Start a Discussion

Reference address : https://www.ellopos.net/elpenor/byzantium-pop.asp?pl=reininger-rosebud