Table of Contents ||| Clement of Rome ||| Epistle to Diognetus ||| St Polycarp ||| St Ignatius ||| Justin the Martyr ||| St. Irenaeus ||| Hermas ||| Clement of Alexandria ||| Tertullian ||| St. Basil the Great ||| Links
---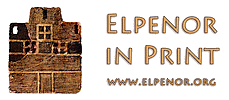 Page 9




Letter 12, To Olympius



BEFORE you did write me a few words: now not even a few. Your brevity will soon become silence. Return to your old ways, and do not let me have to scold you for your laconic behaviour. But I shall be glad even of a little letter in token of your great love. Only write to me.

Letter 13, To Olympius



AS ALL the fruits of the season come to us in their proper time, flowers in spring, corn in summer, and apples in autumn, so the fruit for winter is talk.


Roots of Asceticism : Home ||| St Basil Home Page and Works
Cf. CONSTANTINOPLE ||| BYZANTINE HISTORY ||| NEW TESTAMENT ||| MEISTER ECKHART SITE ||| GREEK LANGUAGE ||| PLATO PAGE ||| LIBRARIES ||| FORUM